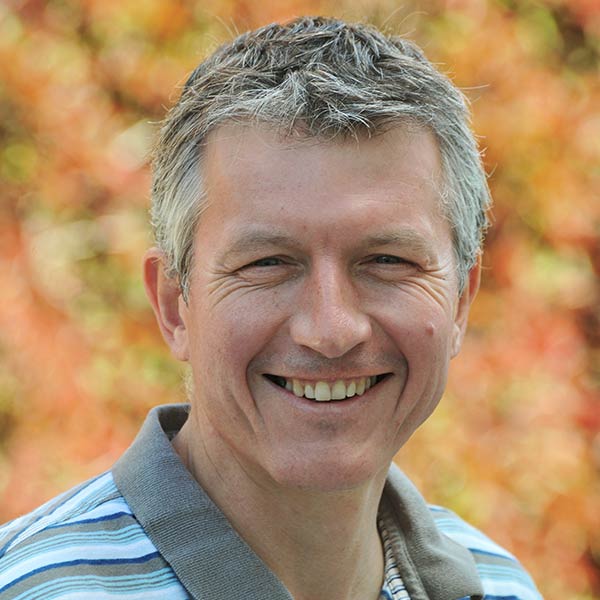 My research explores the potential of computational statistics and statistical machine learning to assist in the medical and health sciences. In this respect I oversee a small research group working on probabilistic models and Bayesian decision analysis in complex biomedical data environments. This includes theoretical foundations, novel methodology, and "hands-on" study driven data science.
I hold a joint Statutory Professorship (Oxford speak for Chair) in Biostatistics at the departments of Statistics and the Nuffield Department of Medicine. Within the Nuffield medical school I am an Affiliate Member of the Li Ka Shing Centre for Health Information and Discovery. My research is partly funded through a Programme Leaders award in Statistical Genomics from the UK's Medical Research Council. I am Scientific Director for the Health Programme at the Alan Turing Institute, London.
Projects
Oxford-Novartis Collaboration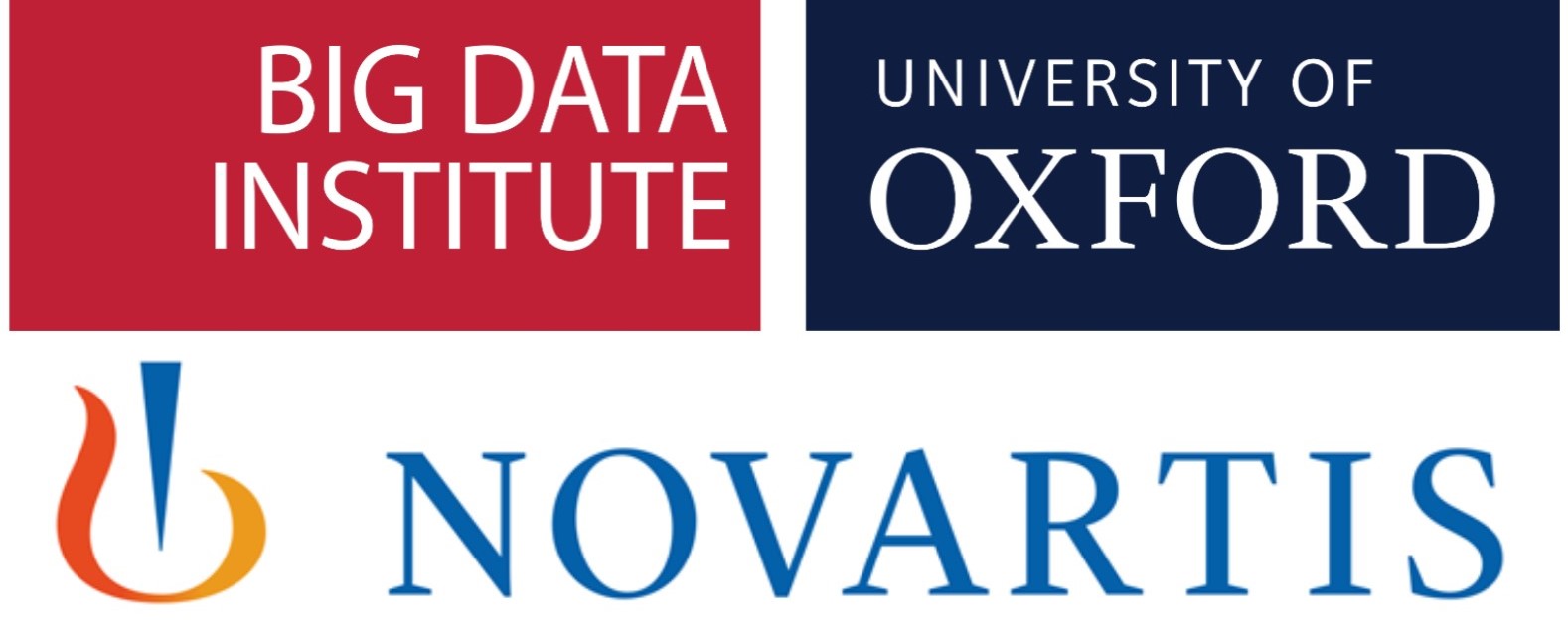 The University of Oxford Big Data Institute has recently engaged in a long-term research collaboration with Novartis. The aim of the collaboration is to develop statistical machine learning methods to better understand complex diseases using Novartis' clinical trial data. The partnership will initially focus on flagship programs in multiple sclerosis (MS), rheumatology and dermatology. MS is a chronic and ultimately debilitating disease that affects approximately 2.5 million individuals worldwide. A disease of the central nervous system, MS is characterised by the inflammation and eventual destruction of the axons. Novartis has amassed a vast database from clinical trials targeting MS, including brain MRI images across multiple modalities, clinical and genomic data. Using this data, the project aims to better characterise MS over the span of the disease and find biomarkers for early diagnosis, monitoring and prognosis of individual MS patients. The rheumatology and dermatology program will focus on the following autoimmune disorders: ankylosing spondylitis, rheumatoid arthritis, psoriatic arthritis and psoriasis. The goal of the study is to analyse the relevant studies and identify new factors driving disease progression and therapeutic response and develop cutting-edge tools to support clinical decision making.
Bayesian inference in high-throughput phenotyping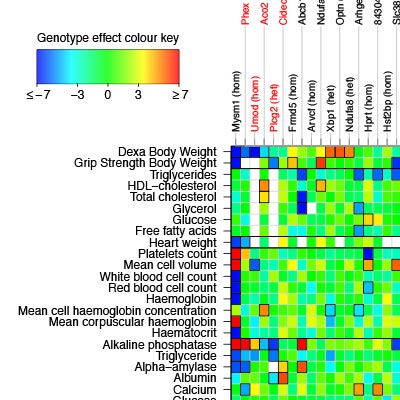 This project aims to develop and apply computational statistics and machine learning methods to enhance interpretation of data from the International Mouse Phenotyping Consortium and to facilitate their use in identification of models for human disease. The IMPC is a multi-centre collaboration aimed at measuring the phenotypic consequences of knocking out each gene in the mouse genome in turn. Several hundred measurements are taken on each animal, in procedures ranging from clinical blood chemistry, through calorimetry and body composition to behavioural phenotypes. Our current focus is on the use of sparse hierarchical factor models to effectively identify and interpret multivariate phenotype perturbations and impute unmeasured phenotypes.
STOP-HCV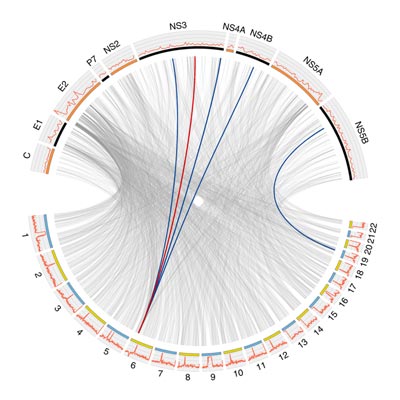 HCV infects around 200,000 people within the UK and 200 million people worldwide (2% of the world population). STOP-HCV is a flexible and dynamic UK wide consortium that will use patient stratification to optimise treatment of infected patients. The consortium builds on existing cutting edge clinical and scientific expertise, in partnership with industry. Our overarching aim is to define and develop a deeper understanding of patient strata and to develop prognostic models so that rational treatment strategies can be deployed. In a new era of novel Directly Acting Antiviral (DAA) therapies, treating only a subset of patients with DAA will cost the NHS an estimated £96 million/year. Therefore, refined patient stratification will be of enormous clinical and economic benefit. A focus of our program will be study of HCV genotype-3 infection, highly prevalent in the UK, with a characteristic clinical phenotype, and a higher relapse rate with DAA therapy. We will also focus on difficult-to-treat patient groups such as those with cirrhosis and those co-infected with HIV, where optimal management pathways will be of particular benefit in patients. Our consortium is underpinned by HCV Research UK, a network of 18 UK centres biobanking samples from 10,000 HCV infected patients, linked to a state-of-the-art clinical database. A unique aspect of the STOP-HCV consortium is the availability of complementary datasets on a common set of samples. This allows for integrative analysis, using all of the data for improved scientific understanding of the mechanisms underlying heterogeneity of disease susceptibility and progression, as well as host-viral interaction and implications for therapeutic response. The joint data will also enable an integrative approach to biomarker panel construction using genetic, genomic, and serum marker data, informed by the in vitro immunity experiments. Integrative analysis will take place in phases beginning with pair-wise analysis of datasets prior to integration of heterogeneous sources of data.
S-CORT (Stratification in COloRecTal Cancer)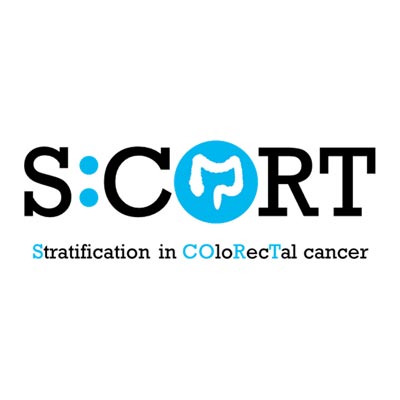 The aim of the combined effort of S-CORT consortium is to better diagnose colorectal cancer (CRC) in such a way as to increase the likelihood that the treatment with the highest chance of success, is prescribed to patients. It also aims to minimise the potential negative side effects associated with various therapies. Part of this work is to develop novel statistical methods, employing computational statistics and machine learning approaches, in biostatistics and statistical genomics to integrate the multi-omics data (DNA sequence, methylation, transcriptome and patient records) generated by the consortium in order to provide a greater biological understanding of CRC and how that underlies the prediction of outcome.
MultiMuTHER

New technologies are providing opportunities to measure health and disease in many novel ways. This project focuses on two such technologies that measure genome-wide gene expression (RNA-seq transcriptomics) and concentrations of a broad range of small molecules involved in metabolism (metabolomics). One of the next big steps in precision medicine promises to be the integration of genetic data with such longitudinally varying molecular phenotypes to enhance prediction of disease and stratify treatments across patient groups to improve health outcomes. This project gathers RNA-Seq and metabolomic data longitudinally from ~700 members of the TwinsUK cohort, with these data accompanied by genotypes and extensive clinical and lifestyle information. We will explore how molecular traits track and vary over time, determine how such variation relates to underlying genetic variation, and explore the joint contribution of genetic and genomic data to disease risk, with a particular focus on type II diabetes. We will develop bespoke statistical and machine learning approaches to infer the longitudinal multivariate relationships amongst genotype, molecular traits, and environmental/lifestyle factors; and their application to identify robust, reproducible signatures associated with disease susceptibility and onset.
Publications
Research Areas key
Theory (T): Contains at least one theorem, lemma or proposition
Methods (M): Novel statistical methodology developed for general applicability in the problem domain
Applications (A): Focus is on a specific scientific question or analysis of data from a scientific study
Machine Learning (ML): Of particular relevance to machine learning
Title
Year
Research Area

On the marginal likelihood and cross-validation

E Fong, C Holmes

Biometrika (to appear)

2019

treeSeg: testing for dependence on tree structures

M Behr, M A Ansari, A Munk, C Holmes

bioRxiv, 622811

2019

Scalable Nonparametric Sampling from Multimodal Posteriors with the Posterior Bootstrap

E Fong, S Lyddon, C Holmes

ICML (2019)

2019

Nonparametric learning from Bayesian models with randomized objective functions

S Lyddon, S Walker, C Holmes

NeurIPS (2018): Advances in Neural Information Processing Systems 31

2018

General Bayesian Updating and the Loss-Likelihood Bootstrap

S Lyddon, C Holmes, S Walker

2018

A Framework for Adaptive MCMC Targeting Multimodal Distributions

E Pompe, C Holmes, K Łatuszyński

arXiv preprint arXiv:1812.02609

2018

Transcriptome Deconvolution of Heterogeneous Tumor Samples with Immune Infiltration

Z Wang, S Cao, JS Morris, J Ahn, R Liu, S Tyekucheva, F Gao, B Li, W Lu, ...

iScience 9, 451-460

2018

Semi-unsupervised Learning of Human Activity using Deep Generative Models

M Willetts, A Doherty, S Roberts, C Holmes

arXiv preprint arXiv:1810.12176

2018

Probabilistic Boolean Tensor Decomposition

T Rukat, C Holmes, C Yau

International Conference on Machine Learning, 4410-4419

2018

Principles of bayesian inference using general divergence criteria

J Jewson, J Smith, C Holmes

Entropy 20 (6), 442

2018

Statistical machine learning of sleep and physical activity phenotypes from sensor data in 96,220 UK Biobank participants

M, S Hollowell, L Aslett, C Holmes, A Doherty

Nature Scientific Reports, 8

2018

TensOrMachine: Probabilistic Boolean Tensor Decomposition

T Rukat, CC Holmes, C Yau

To appear, ICML (2018): arXiv preprint arXiv:1805.04582

2018

High-throughput mouse phenomics for characterizing mammalian gene function

SDM Brown, CC Holmes, AM Mallon, TF Meehan, D Smedley, S Wells

Nature Reviews Genetics, 1

2018

NOX1 loss-of-function genetic variants in patients with inflammatory bowel disease

T Schwerd, RV Bryant, S Pandey, M Capitani, L Meran, JB Cazier, J Jung, ...

Mucosal immunology 11 (2), 562

2018

Interferon lambda 4 impacts broadly on hepatitis C virus diversity

MA Ansari, E Aranday-Cortes, CLC Ip, A da Silva Filipe, LS Hin, ...

bioRxiv, 305151

2018

Multiscale blind source separation

M Behr, C Holmes, A Munk

The Annals of Statistics 46 (2), 711-744

2018

Principled Bayesian Minimum Divergence Inference

J Jewson, JQ Smith, C Holmes

Special Edition on the Foundations of Statistics, Entropy, 20(6), 442

2018

A general framework for predicting the transcriptomic consequences of non-coding variation

M Abdalla, MI McCarthy, CC Holmes

bioRxiv, 279323

2018

GWAS identifies 10 loci for objectively-measured physical activity and sleep with causal roles in cardiometabolic disease.

A Doherty, K Smith-Bryne, T Ferreira, MV Holmes, C Holmes, SL Pulit, ...

bioRxiv, 261719

2018

The nature and nurture of cell heterogeneity: accounting for macrophage gene-environment interactions with single-cell RNA-Seq

QF Wills, E Mellado-Gomez, R Nolan, D Warner, E Sharma, J Broxholme, ...

BMC genomics 18 (1), 53

2017

Generalized Bayesian Updating and the Loss-Likelihood Bootstrap

S Lyddon, C Holmes, S Walker

arXiv preprint arXiv:1709.07616

2017

Adaptive MCMC for multimodal distributions

C Holmes, K Łatuszyński, E Pompe

2017

Comparing two sequential Monte Carlo samplers for exact and approximate Bayesian inference on biological models

AC Daly, J Cooper, DJ Gavaghan, C Holmes

Journal of The Royal Society Interface 14 (134), 20170340

2017

Better together? Statistical learning in models made of modules

PE Jacob, LM Murray, CC Holmes, CP Robert

arXiv preprint arXiv:1708.08719

2017

Characterizing variation of nonparametric random probability measures using the Kullback–Leibler divergence

J Watson, L Nieto-Barajas, C Holmes

Statistics 51 (3), 558-571

2017

Principles of Experimental Design for Big Data Analysis

CC Drovandi, C Holmes, JM McGree, K Mengersen, S Richardson, ...

Statistical Science. 2017 Aug; 32(3): 385–404

2017

Genome-to-genome analysis highlights the effect of the human innate and adaptive immune systems on the hepatitis C virus

MA Ansari, V Pedergnana, CLC Ip, A Magri, A Von Delft, D Bonsall, ...

Nature genetics 49 (5), 666

2017

Encrypted accelerated least squares regression

PM Esperança, LJM Aslett, CC Holmes

AISTATS 2017: The 20th International Conference on Artificial Intelligence and Statistics, 54, 334-343.

2017

A note on statistical repeatability and study design for high‐throughput assays

G Nicholson, C Holmes

Statistics in medicine 36 (5), 790-798

2017

Bayesian Boolean Matrix Factorisation

T Rukat, CC Holmes, MK Titsias, C Yau

arXiv preprint arXiv:1702.06166

2017

This is to appear in ICML

Digital Analysis of Tumour Microarchitecture as an Independent Prognostic Tool in Breast Cancer

I Roxanis, R Colling, EA Rakha, A Green, J Rittscher, RC Conceicao, ...

LABORATORY INVESTIGATION 97, 68A-68A

2017

Assigning a value to a power likelihood in a general Bayesian model

C Holmes, S Walker

Biometrika, Volume 104, Issue 2, 497-503

2017

The nature and nurture of cell heterogeneity: accounting for macrophage gene-environment interactions with single-cell RNA-Seq

QF Wills, E Mellado-Gomez, R Nolan, D Warner, E Sharma, J Broxholme, ...

BMC genomics 18 (1), 53

2017

On Markov chain Monte Carlo Methods for Tall Data

A Doucet, CC Holmes, R Bardenet

2017

Rejoinder: Approximate Models and Robust Decisions

J Watson, C Holmes

2017

Transcriptome Deconvolution of Heterogeneous Tumor Samples with Immune Infiltration

Z Wang, JS Morris, S Cao, J Ahn, R Liu, S Tyekucheva, B Li, W Lu, X Tang, ...

bioRxiv, 146795

2017

Artemether-lumefantrine and dihydroartemisinin-piperaquine exert inverse selective pressure on Plasmodium falciparum drug sensitivity associated haplotypes in Uganda

AR Taylor, JA Flegg, CC Holmes, PJ Guérin, CH Sibley, MD Conrad, ...

Open Forum Infectious Diseases, ofw229

2016

Cell type-specific deconvolution of heterogeneous tumor samples with immune infiltration using expression data

Z Wang, JS Morris, CC Holmes, J Ahn, B Li, W Lu, X Tang, II Wistuba, ...

Cancer Research 76 (14 Supplement), 2413-2413

2016

A general framework for updating belief distributions

PG Bissiri, CC Holmes, SG Walker

Journal of the Royal Statistical Society: Series B (Statistical Methodology)

2016

Statistical inference in hidden Markov models using k-segment constraints

MK Titsias, CC Holmes, C Yau

Journal of the American Statistical Association 111 (513), 200-215

2016

Scalable Bayesian nonparametric measures for exploring pairwise dependence via Dirichlet Process Mixtures

S Filippi, CC Holmes, LE Nieto-Barajas

Electronic Journal of Statistics 10 (2), 3338-3354

2016

Scalable Bayesian nonparametric regression via a Plackett-Luce model for conditional ranks

T Gray-Davies, CC Holmes, F Caron

Electronic Journal of Statistics 10 (2), 1807-1828

2016

A Bayesian nonparametric approach to testing for dependence between random variables

S Filippi, CC Holmes

Bayesian Analysis 12 (4), 919-938

2016

Approximate models and robust decisions

J Watson, C Holmes

Statistical Science 31 (4), 465-489

2016

Hodgkin–Huxley revisited: reparametrization and identifiability analysis of the classic action potential model with approximate Bayesian methods

AC Daly, DJ Gavaghan, C Holmes, J Cooper

Royal Society open science 2 (12), 150499

2015

Abstract B1-56: Distinct roles of copy number and loss-of-heterozygosity in predicting prognosis for breast cancer patients

RGPM van Stiphout, L Winchester, SA Haider, J Ragoussis, AL Harris, ...

Cancer Research 75 (22 Supplement 2), B1-56-B1-56

2015

Analysis of mammalian gene function through broad-based phenotypic screens across a consortium of mouse clinics

MH de Angelis, G Nicholson, M Selloum, JK White, H Morgan, ...

Nature genetics 47 (9), 969-978

2015

Encrypted statistical machine learning: new privacy preserving methods

LJM Aslett, PM Esperança, CC Holmes

arXiv preprint arXiv:1508.06845

2015

A review of homomorphic encryption and software tools for encrypted statistical machine learning

LJM Aslett, PM Esperança, CC Holmes

arXiv preprint arXiv:1508.06574

2015

Factors influencing success of clinical genome sequencing across a broad spectrum of disorders

JC Taylor, HC Martin, S Lise, J Broxholme, JB Cazier, A Rimmer, ...

Nature genetics 47 (7), 717-726

2015

Robust Linear Models for Cis-eQTL Analysis

M Rantalainen, CM Lindgren, CC Holmes

PloS one 10 (5), e0127882

2015

On Markov chain Monte Carlo methods for tall data

R Bardenet, A Doucet, C Holmes

arXiv preprint arXiv:1505.02827

2015

Two-sample Bayesian nonparametric hypothesis testing

CC Holmes, F Caron, JE Griffin, DA Stephens

Bayesian Analysis 10 (2), 297-320

2015

The Identification of Further Minimal Regions of Overlap in Chronic Lymphocytic Leukemia Using High-Resolution SNP Arrays

SJL Knight, R Clifford, P Robbe, SDC Ramos, A Burns, AT Timbs, ...

Blood 124 (21), 3315-3315

2014

Towards Response Prediction Using Integrated Genomics in Chronic Lymphocytic Leukaemia: Results on 250 First-Line FCR Treated Patients from UK Clinical Trials

RM Clifford, P Robbe, S Weller, AT Timbs, M Titsias, A Burns, M Cabes, ...

Blood 124 (21), 1942-1942

2014

Erythrocytosis associated with a novel missense mutation in the BPGM gene

N Petousi, RR Copley, TRJ Lappin, SE Haggan, CM Bento, H Cario, ...

haematologica 99 (10), e201-e204

2014

Distinct developmental profile of lower-body adipose tissue defines resistance against obesity-associated metabolic complications

KE Pinnick, G Nicholson, KN Manolopoulos, SE McQuaid, P Valet, ...

Diabetes, DB_140385

2014

Estimation of malaria haplotype and genotype frequencies: a statistical approach to overcome the challenge associated with multiclonal infections

AR Taylor, JA Flegg, SL Nsobya, A Yeka, MR Kamya, PJ Rosenthal, ...

Malaria journal 13 (1), 102

2014

An adaptive subsampling approach for MCMC inference in large datasets

R Bardenet, A Doucet, C Holmes

Proceedings of The 31st International Conference on Machine Learning, 405-413

2014

Towards scaling up Markov chain Monte Carlo: an adaptive subsampling approach

R Bardenet, A Doucet, C Holmes

Proceedings of the 31st International Conference on Machine Learning (ICML ...

2014

Nonlinear estimation and classification

DD Denison, MH Hansen, CC Holmes, B Mallick, B Yu

Springer Science & Business Media

2013

Survival in stage II/III colorectal cancer is independently predicted by chromosomal and microsatellite instability, but not by specific driver mutations

D Mouradov, E Domingo, P Gibbs, RN Jorissen, S Li, PY Soo, L Lipton, ...

The American journal of gastroenterology 108 (11), 1785-1793

2013

Integrative network-based Bayesian analysis of diverse genomics data

W Wang, V Baladandayuthapani, CC Holmes, KA Do

BMC bioinformatics 14 (13), S8

2013

Statistical estimation of malaria genotype frequencies: a Bayesian approach

A Taylor, J Flegg, G Dorsey, P Guerin, C Holmes

Tropical Medicine & International Health 18, 67

2013

Single-cell gene expression analysis reveals genetic associations masked in whole-tissue experiments

QF Wills, KJ Livak, AJ Tipping, T Enver, AJ Goldson, DW Sexton, ...

Nature biotechnology 31 (8), 748-752

2013

NucleoFinder: a statistical approach for the detection of nucleosome positions

J Becker, C Yau, JM Hancock, CC Holmes

Bioinformatics 29 (6), 711-716

2013

Germline mutations affecting the proofreading domains of POLE and POLD1 predispose to colorectal adenomas and carcinomas

C Palles, JB Cazier, KM Howarth, E Domingo, AM Jones, P Broderick, ...

Nature genetics 45 (2), 136-144

2013

Use of multivariate analysis to suggest a new molecular classification of colorectal cancer

E Domingo, R Ramamoorthy, D Oukrif, D Rosmarin, M Presz, H Wang, ...

The Journal of pathology 229 (3), 441-448

2013

Methods for qPCR gene expression profiling applied to 1440 lymphoblastoid single cells

KJ Livak, QF Wills, AJ Tipping, K Datta, R Mittal, AJ Goldson, DW Sexton, ...

Methods 59 (1), 71-79

2013

Germline mutations affecting the proofreading domains of POLE and POLD1 predispose to colorectal adenomas and carcinomas

C Palles, J Cazier, K Howarth, E Domingo, A Jones, P Broderick, Z Kemp, ...

Nature Genet 45, 136-144

2013

A decision-theoretic approach for segmental classification

C Yau, CC Holmes

The Annals of Applied Statistics 7 (3), 1814-1835

2013

A Novel Test for Gene-Ancestry Interactions in Genome-Wide Association Data

JL Davies, JB Cazier, MG Dunlop, RS Houlston, IP Tomlinson, ...

PloS one 7 (12), e48687

2012

GREVE: Genomic Recurrent Event ViEwer to assist the identification of patterns across individual cancer samples

JB Cazier, CC Holmes, J Broxholme

Bioinformatics 28 (22), 2981-2982

2012

A Bayesian model for estimating with-in host P. falciparum haplotype frequencies

AR Taylor, JA Flegg, PJ Guerin, C Roper, C Holmes

Malaria Journal 11 (S1), P36

2012

Reprioritizing Genetic Associations in Hit Regions Using LASSO‐Based Resample Model Averaging

W Valdar, J Sabourin, A Nobel, CC Holmes

Genetic epidemiology 36 (5), 451-462

2012

On the sampling distribution of an l2 norm of the Empirical Distribution Function, with applications to two-sample nonparametric testing

F Caron, C Holmes, E Rio

2012

On the sampling distribution of an ℓ2 distance between Empirical Distribution Functions with applications to nonparametric testing

F Caron, C Holmes, E Rio

INRIA

2012

nEASE: a method for gene ontology subclassification of high-throughput gene expression data

TW Chittenden, EA Howe, JM Taylor, JC Mar, MJ Aryee, H Gómez, ...

Bioinformatics 28 (5), 726-728

2012

Coexpression network analysis in abdominal and gluteal adipose tissue reveals regulatory genetic loci for metabolic syndrome and related phenotypes

JL Min, G Nicholson, I Halgrimsdottir, K Almstrup, A Petri, A Barrett, ...

PLoS Genet 8 (2), e1002505

2012

Quantification of subclonal distributions of recurrent genomic aberrations in paired pre-treatment and relapse samples from patients with B-cell chronic lymphocytic leukemia

SJL Knight, C Yau, R Clifford, AT Timbs, ES Akha, HM Dreau, A Burns, ...

Leukemia 26 (7)

2012

Bayesian sparsity-path-analysis of genetic association signal using generalized t priors

A Lee, F Caron, A Doucet, C Holmes

Statistical applications in genetics and molecular biology 11 (2), 1-29

2012

Variance decomposition of protein profiles from antibody arrays using a longitudinal twin model

BS Kato, G Nicholson, M Neiman, M Rantalainen, CC Holmes, A Barrett, ...

Proteome science 9 (1), 73

2011

MicroRNA expression in abdominal and gluteal adipose tissue is associated with mRNA expression levels and partly genetically driven

M Rantalainen, BM Herrera, G Nicholson, R Bowden, QF Wills, JL Min, ...

PloS one 6 (11), e27338

2011

Application of a novel score test for genetic association incorporating gene-gene interaction suggests functionality for prostate cancer susceptibility regions

J Ciampa, M Yeager, K Jacobs, MJ Thun, S Gapstur, D Albanes, J Virtamo, ...

Human heredity 72 (3), 182-193

2011

Accounting for control mislabeling in case–control biomarker studies

M Rantalainen, CC Holmes

Journal of proteome research 10 (12), 5562-5567

2011

A genome-wide metabolic QTL analysis in Europeans implicates two loci shaped by recent positive selection

G Nicholson, M Rantalainen, JV Li, AD Maher, D Malmodin, KR Ahmadi, ...

PLoS genetics 7 (9), e1002270

2011

Bayesian hierarchical mixture modeling to assign copy number from a targeted CNV array

N Cardin, C Holmes, P Donnelly, J Marchini

Genetic epidemiology 35 (6), 536-548

2011

Stochastic boosting algorithms

A Jasra, CC Holmes

Statistics and Computing 21 (3), 335-347

2011

Hierarchical Bayesian nonparametric mixture models for clustering with variable relevance determination

C Yau, C Holmes

Bayesian analysis (Online) 6 (2), 329

2011

Application of a novel multi-locus test for genetic association incorporating gene-gene interaction suggests functionality for multiple susceptibility loci for prostate cancer

JG Ciampa, C Holmes, N Chatterjee

Cancer Research 71 (8 Supplement), 2747-2747

2011

The presence of methylation quantitative trait loci indicate a direct genetic influence on the level of methylation in adipose tissue

A Drong, G Nicholson, M Schuster, F Karpe, MI McCarthy, CC Holmes, ...

2011

C Holmes, L Held

Bayesian Analysis 6 (2), 357-358

2011

Bayesian non‐parametric hidden Markov models with applications in genomics

C Yau, O Papaspiliopoulos, GO Roberts, C Holmes

Journal of the Royal Statistical Society: Series B (Statistical Methodology ...

2011

Human metabolic profiles are stably controlled by genetic and environmental variation

G Nicholson, M Rantalainen, AD Maher, JV Li, D Malmodin, KR Ahmadi, ...

Molecular systems biology 7 (1), 525

2011

Therapeutic implications of GIPC1 silencing in cancer

TW Chittenden, J Pak, R Rubio, H Cheng, K Holton, N Prendergast, ...

PloS one 5 (12), e15581

2010

Quantitative Whole Genome Analysis of Sequential Samples From Patients with B-CLL Identifies Novel Recurrent Copy Number Alterations Involving Critical B-Cell Transcription Factors

A Timbs, S Knight, E SadighiAkha, A Burns, H Dreau, AM Hewitt, C Hatton, ...

Blood 116 (21), 3590-3590

2010

Meta-analysis identifies 13 new loci associated with waist-hip ratio and reveals sexual dimorphism in the genetic basis of fat distribution

IM Heid, AU Jackson, JC Randall, TW Winkler, L Qi, V Steinthorsdottir, ...

Nature genetics 42 (11), 949-960

2010

Elusive copy number variation in the mouse genome

A Agam, B Yalcin, A Bhomra, M Cubin, C Webber, C Holmes, J Flint, ...

PLoS One 5 (9), e12839

2010

A statistical approach for detecting genomic aberrations in heterogeneous tumor samples from single nucleotide polymorphism genotyping data

C Yau, D Mouradov, RN Jorissen, S Colella, G Mirza, G Steers, A Harris, ...

Genome biology 11 (9), R92

2010

A hierarchical Bayesian framework for constructing sparsity-inducing priors

A Lee, F Caron, A Doucet, C Holmes

arXiv preprint arXiv:1009.1914

2010

A Bayesian approach using covariance of SNP data to detect differences in linkage disequilibrium patterns between groups of individuals

TG Clark, SG Campino, E Anastasi, S Auburn, YY Teo, K Small, ...

Bioinformatics

2010

Detecting interacting genetic loci with effects on quantitative traits where the nature and order of the interaction are unknown

JL Davies, J Hein, CC Holmes

Genetic epidemiology 34 (4), 299-308

2010

Novel therapeutic potential in targeting the microtubules by nanoparticle albumin-bound paclitaxel in hepatocellular carcinoma

Q Zhou, AKK Ching, WKC Leung, C Szeto, SM Ho, CC Holmes, Y Yuan, ...

Cancer Research 70 (8 Supplement), 4423-4423

2010

Computational issues arising in Bayesian nonparametric hierarchical models

J Griffin, C Holmes

Bayesian Nonparametrics 28, 208

2010

An invitation to Bayesian nonparametrics

NL Hjort, C Holmes, P Müller, SG Walker

Bayesian Nonparametrics 28, 1

2010

NL Hjort, C Holmes, P Müller, SG Walker

Cambridge University Press

2010

Genome-wide association study of CNVs in 16,000 cases of eight common diseases and 3,000 shared controls

N Craddock, ME Hurles, N Cardin, RD Pearson, V Plagnol, S Robson, ...

Nature 464 (7289), 713-720

2010

Micro-ribonucleic acid expression profiling and expression quantitative trait loci analysis in human gluteal and abdominal adipose tissue

M Rantalainen, BM Herrera, G Nicholson, QF Wills, R Bowden, MJ Neville, ...

2010

Bayesian nonparametrics. Cambridge series in statistical and probabilistic mathematics

NL Hjort, C Holmes, P Müller, SG Walker

Cambridge: Cambridge Univ. Press. Mathematical Reviews (MathSciNet): MR2722987

2010

On the utility of graphics cards to perform massively parallel simulation of advanced Monte Carlo methods

A Lee, C Yau, MB Giles, A Doucet, CC Holmes

Journal of Computational and Graphical Statistics 19 (4), 769-789

2010

Some of the what?, why?, how?, who? and where? of graphics processing unit computing for Bayesian analysis

MA Suchard, C Holmes, M West

Bulletin of the International Society for Bayesian Analysis 17 (1), 12-16

2010

A boosting approach to structure learning of graphs with and without prior knowledge

S Anjum, A Doucet, CC Holmes

Bioinformatics 25 (22), 2929-2936

2009

Analysis of the mouse mutant Cloth‐ears shows a role for the voltage‐gated sodium channel Scn8a in peripheral neural hearing loss

FE Mackenzie, A Parker, NJ Parkinson, PL Oliver, D Brooker, P Underhill, ...

Genes, Brain and Behavior 8 (7), 699-713

2009

Mapping in structured populations by resample model averaging

W Valdar, CC Holmes, R Mott, J Flint

Genetics 182 (4), 1263-1277

2009

Reply to Wirth et al.: In vivo profiles show continuous variation between 2 cellular populations

JE Lemieux, A Feller, CC Holmes, CI Newbold

Proceedings of the National Academy of Sciences 106 (27), E71-E72

2009

On testing for genetic association in case‐control studies when population allele frequencies are known

A Antonyuk, C Holmes

Genetic epidemiology 33 (5), 371-378

2009

Approximate Bayesian feature selection on a large meta-dataset offers novel insights on factors that effect siRNA potency

JW Klingelhoefer, L Moutsianas, C Holmes

Bioinformatics 25 (13), 1594-1601

2009

Statistical estimation of cell-cycle progression and lineage commitment in Plasmodium falciparum reveals a homogeneous pattern of transcription in ex vivo culture

JE Lemieux, N Gomez-Escobar, A Feller, C Carret, A Amambua-Ngwa, ...

Proceedings of the National Academy of Sciences 106 (18), 7559-7564

2009

Phylogenetic inference under recombination using Bayesian stochastic topology selection

A Webb, JM Hancock, CC Holmes

Bioinformatics 25 (2), 197-203

2009

Antithetic methods for gibbs samplers

C Holmes, A Jasra

Journal of Computational and Graphical Statistics 18 (2), 401-414

2009

Beyond toplines: Heterogeneous treatment effects in randomized experiments

A Feller, CC Holmes

Unpublished manuscript, Oxford University

2009

GenoSNP: a variational Bayes within-sample SNP genotyping algorithm that does not require a reference population

E Giannoulatou, C Yau, S Colella, J Ragoussis, CC Holmes

Bioinformatics 24 (19), 2209-2214

2008

Key issues in conducting a meta-analysis of gene expression microarray datasets

A Ramasamy, A Mondry, CC Holmes, DG Altman

PLoS Med 5 (9), e184

2008

Functional classification analysis of somatically mutated genes in human breast and colorectal cancers

TW Chittenden, EA Howe, AC Culhane, R Sultana, JM Taylor, C Holmes, ...

Genomics 91 (6), 508-511

2008

Interacting sequential Monte Carlo samplers for trans-dimensional simulation

A Jasra, A Doucet, DA Stephens, CC Holmes

Computational Statistics & Data Analysis 52 (4), 1765-1791

2008

CNV discovery using SNP genotyping arrays

C Yau, CC Holmes

Cytogenetic and genome research 123 (1-4), 307-312

2008

Population-based reversible jump Markov chain Monte Carlo

A Jasra, DA Stephens, CC Holmes

Biometrika, 787-807

2007

BAYESIAN STATISTICS 8, pp. 253-282. JM Bernardo, MJ Bayarri, JO Berger, AP Dawid, D. Heckerman, AFM Smith and M. West (Eds.)© Oxford University Press, 2007

CC Holmes, A Pintore

Bayesian statistics 8: proceedings of the eighth Valencia International ...

2007

On population-based simulation for static inference

A Jasra, DA Stephens, CC Holmes

Statistics and Computing 17 (3), 263-279

2007

Mcmc Methods for Bayesian Variable Selection in Large-scale Genomic Applications

M Zucknick, C Holmes, S Richardson

Annals of Human Genetics 71 (4), 558-559

2007

Flexible threshold models for modelling interest rate volatility

P Dellaportas, DGT Denison, C Holmes

Econometric reviews 26 (2-4), 419-437

2007

QuantiSNP: an Objective Bayes Hidden-Markov Model to detect and accurately map copy number variation using SNP genotyping data

S Colella, C Yau, JM Taylor, G Mirza, H Butler, P Clouston, AS Bassett, ...

Nucleic Acids Research 35 (6), 2013-2025

2007

Bayesian nonparametric calibration with applications in spatial epidemiology

JE Griffin, CC Holmes

Technical Report, Institute of Mathematics, Statistics and Actuarial Science ...

2007

Integrating 3D information from thermochronological data over unknown spatial scales

K Gallagher, J Stephenson, R Brown, C Holmes

Geophysical Research Abstracts 9, 09015

2007

LJ Astle, CC Holmes, DJ Balding

WILEY-LISS 31 (6), 605-605

2007

A Bayesian approach to calibrating apatite fission track annealing models for laboratory and geological timescales

J Stephenson, K Gallagher, C Holmes

Geochimica et Cosmochimica Acta 70 (20), 5183-5200

2006

Putting the data to work—strategies for modelling multiple samples in multiple dimensions

K Gallagher, J Stephenson, C Holmes, R Brown

Geochimica et Cosmochimica Acta 70 (18), A190

2006

A new approach to mixture modelling for geochronology

K Gallagher, A Jasra, D Stephens, C Holmes

Geochimica et Cosmochimica Acta 70 (18), A190

2006

Bayesian mixture modelling in geochronology via Markov chain Monte Carlo

A Jasra, DA Stephens, K Gallagher, CC Holmes

Mathematical geology 38 (3), 269-300

2006

A quantitative study of gene regulation involved in the immune response of anopheline mosquitoes

NA Heard, CC Holmes, DA Stephens

Journal of the American Statistical Association 101 (473), 18-29

2006

Spatially adaptive smoothing splines

A Pintore, P Speckman, CC Holmes

Biometrika, 113-125

2006

Low temperature thermochronology and strategies for multiple samples: 2: Partition modelling for 2d/3d distributions with discontinuities

J Stephenson, K Gallagher, CC Holmes

Earth and Planetary Science Letters 241 (3), 557-570

2006

Bayesian Inference for Gene Expression and Proteomics: Modeling Nonlinear Gene Interactions Using Bayesian MARS

V Baladandayuthapani, CC Holmes, BK Mallick, RJ Carroll

2006

Analysis of geochronological data with measurement error using Bayesian mixtures

A Jasra, DA Stephens, K Gallagher, CC Holmes

Mathematical Geology 38, 269-300

2006

Modeling nonlinear gene interactions using Bayesian MARS

V Baladandayuthapani, CC Holmes, BK Mallick, RJ Carroll

Bayesian Inference for Gene Expression and Proteomics. Cambridge University ...

2006

Modulation of the BK channel by estrogens: examination at single channel level

H De Wet, M Allen, C Holmes, M Stobbart, JD Lippiat, H De Wet, M Allen, ...

Molecular membrane biology 23 (5), 420-429

2006

Bayesian auxiliary variable models for binary and multinomial regression

CC Holmes, L Held

Bayesian analysis 1 (1), 145-168

2006

Bayesian prediction via partitioning

CC Holmes, DGT Denison, S Ray, BK Mallick

Journal of Computational and Graphical Statistics 14 (4), 811-830

2005

Bayesian coclustering of Anopheles gene expression time series: study of immune defense response to multiple experimental challenges

NA Heard, CC Holmes, DA Stephens, DJ Hand, G Dimopoulos

Proceedings of the National Academy of Sciences of the United States of ...

2005

Low temperature thermochronology and modeling strategies for multiple samples 1: Vertical profiles

K Gallagher, J Stephenson, R Brown, C Holmes, P Fitzgerald

Earth and Planetary Science Letters 237 (1), 193-208

2005

Analyzing nonstationary spatial data using piecewise Gaussian processes

HM Kim, BK Mallick, CC Holmes

Journal of the American Statistical Association 100 (470), 653-668

2005

Markov chain Monte Carlo methods and the label switching problem in Bayesian mixture modeling

A Jasra, CC Holmes, DA Stephens

Statistical Science, 50-67

2005

All systems GO for understanding mouse gene function

C Holmes, SDM Brown

The Scientist 19 (1), 20.1-20.1

2005

A statistical technique for modelling non-stationary spatial processes

J Stephenson, C Holmes, K Gallagher, A Pintore

Geostatistics Banff 2004, 125-134

2005

A dimension-reduction approach for spectral tempering using empirical orthogonal functions

A Pintore, CC Holmes

Geostatistics Banff 2004, 1007-1015

2005

Exploiting 3D spatial sampling in inverse modeling of thermochronological data

K Gallagher, J Stephenson, R Brown, C Holmes, P Ballester

Reviews in mineralogy and geochemistry 58 (1), 375-387

2005

All systems GO for understanding mouse gene function

C Holmes, SDM Brown

Journal of biology 3 (5), 20

2004

Beyond kriging: dealing with discontinuous spatial data fields using adaptive prior information and Bayesian partition modelling

J Stephenson, K Gallagher, CC Holmes

Geological Society, London, Special Publications 239 (1), 195-209

2004

Spatially adaptive non-stationary covariance functions via spatially adaptive spectra

A Pintore, C Holmes

http:\\ www. stats. ox. ac. uk cholmes\ Reports\ spectral tempering. pdf

2004

Generalized nonlinear modeling with multivariate free-knot regression splines

CC Holmes, BK Mallick

Journal of the American Statistical Association 98 (462), 352-368

2003

Likelihood inference in nearest-neighbour classification models

CC Holmes, NM Adams

Biometrika, 99-112

2003

Generalized monotonic regression using random change points

CC Holmes, NA Heard

Statistics in Medicine 22 (4), 623-638

2003

Stochastic search algorithms inspired by physical and biological systems are applied to the problem of learning directed graphical probability models in the presence of missing observations and hidden variables. For this class of problems, deterministic search algorithms tend to halt at local optima, requiring random restarts to obtain solutions of acceptable quality. We compare three stochastic search...

CC Holmes, DGT Denison

Machine Learning 50 (3), 279-301

2003

Gauss mixture quantization: clustering Gauss mixtures

RM Gray, DD Denison, MH Hansen, CC Holmes, B Mallick, B Yu

Nonlinear Estimation and Classification 1003, 189-212

2003

Bayesian free knot polynomial splines of random order

R Graziani, C Holmes

Università commerciale Luigi Bocconi

2003

Perfect simulation for Bayesian curve and surface fitting

CC Holmes, BK Mallick

Preprint from www. stat. tamu. edu/~ bmallick/papers/perf. ps

2003

Classification with bayesian MARS

CC Holmes, DGT Denison

Machine Learning 50 (1), 159-173

2003

Efficient simulation of Bayesian logistic regression models

C Holmes, L Knorr-Held

Discussion papers/Sonderforschungsbereich 386 der Ludwig-Maximilians ...

2003

Accounting for model uncertainty in seemingly unrelated regressions

CC Holmes, DGT Denison, BK Mallick

Journal of Computational and Graphical Statistics 11 (3), 533-551

2002

Perfect simulation involving functionals of a Dirichlet process

A Guglielmi, CC Holmes, SG Walker

Journal of Computational and Graphical Statistics 11 (2), 306-310

2002

J Ferreira, DGT Denison, CC Holmes

2002

A probabilistic nearest neighbour method for statistical pattern recognition

CC Holmes, NM Adams

Journal of the Royal Statistical Society: Series B (Statistical Methodology ...

2002

DGT Denison, NM Adams, CC Holmes, DJ Hand

Computational statistics & data analysis 38 (4), 475-485

2002

Perfect sampling for the wavelet reconstruction of signals

C Holmes, DGT Denison

IEEE Transactions on Signal Processing 50 (2), 337-344

2002

Minimum-entropy data partitioning using reversible jump Markov chain Monte Carlo

SJ Roberts, C Holmes, D Denison

IEEE Transactions on Pattern Analysis and Machine Intelligence 23 (8), 909-914

2001

Bayesian partitioning for estimating disease risk

DGT Denison, CC Holmes

Biometrics 57 (1), 143-149

2001

Minimum-entropy data clustering using reversible jump markov chain monte carlo

S Roberts, C Holmes, D Denison

Artificial Neural Networks—ICANN 2001, 103-110

2001

Bayesian regression with multivariate linear splines

CC Holmes, BK Mallick

Journal of the Royal Statistical Society: Series B (Statistical Methodology ...

2001

Bayesian wavelet networks for nonparametric regression

CC Holmes, BK Mallick

IEEE transactions on neural networks 11 (1), 27-35

2000

Generalised nonlinear modelling with multivariate smoothing splines

CC Holmes, BK Mallick

Unpublished manuscript, Statistics Section, Department of Mathematics ...

1999

Bayesian wavelet analysis with a model complexity prior

CC Holmes, DGT Denison

Bayesian statistics 6, 769-776

1999

Bayesian radial basis functions of variable dimension

CC Holmes, BK Mallick

Neural Computation 10 (5), 1217-1233

1998

Model-based geostatistics-Discussion

R Webster, A Lawson, C Glasbey, G Horgan, D Elston, G Host, ...

1998